Welcome to Bree's!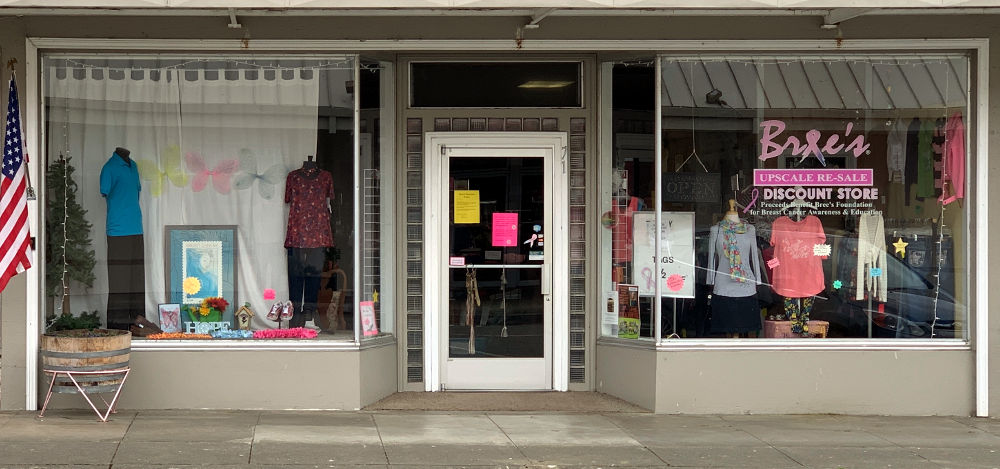 Community Involvement
We wish to offer a heartfelt thank you to all of our communities that continue to support us. Without your participation in this endeavor it would not be successful. The Coquille store has been in operation since 2003, and the North Bend store since 2009.
Through the years not only have the communities shown support by volunteering their time, donating their clothes, and spending their money shopping in our stores, projects that they have participated in, some of which are listed below. If you would like to be a participant, please feel free to contact your local Bree's Upscale ReSale.
Bree's carries the Original Essiac Herbal Tea Remedy made famous by Canadian Nurse Rene Caisse. It is an ancient Ojibway dried Herbal Remedy Mix Tea; containing Burdock Root, Sheep Sorrel, Slippery Elm Bark, Rhubarb Root and enhanced with Watercress, Blessed Thistle, Red Clover and Kelp.
Special Projects
Fashion Shows
Raffles
Hosting Events
Speaking Engagements

We appreciate all of the friendships, compliments, hugs and encouragement through the years!
Thank you for all of your support!
Breast Cancer...
Cruelly strikes Women most, more than one wants to think.
So on this Badge of Awareness they represent the Pink.
But they are not alone. Some Men are stricken too.
Let them not be forgotten. Their symbol here is Blue.
Richard Manning